Advanced formula, professional dry carpet cleaning powder 
Biodegradable and safe to use on all types of carpet and fabric including wool
Drygard is our very own dry carpet cleaning powder specifically developed and tested in house against the most demanding cleaning applications. The unique micro-sponges within the powder penetrate deep into the pile of the carpet for a deeper more efficient clean.
Throughout our development of the product we recognised that not only did our dry cleaning powder need to clean carpets but also during the cleaning process, capture the soiling so it could be safely removed. We looked at the many various ways of carrying the cleaning ingredients to the carpet and found that the best way was to use a natural fibre powder which not only proved to be the most efficient but also the least harmful to the environment. These fibres act like tiny sponges and were very efficient at absorbing dirt particles once agitated using the scrubbing machine. The sponges (fibre powder) were also very efficient at carrying the cleaning agent and the integrated biocide to the carpet and once distributed excellent at releasing the cleaning agents and capturing the dirt.
Drygard is a high quality, natural organic product, moistened with specially formulated cleaning agents integral with biocide and fragrance. The natural fibre used to carry the cleaning agents to the carpet acts like hundreds of little sponges encapsulating the soiling ready to be extracted with a vacuum leaving the carpet fibres rejuvenated, fresh, clean and deodorised.
Our packaging has been carefully introduced to give an easy and secure way of preserving our Drygard powder in both cleaning ability and fragrance, not to mention we are the only manufacturer to use two liners in each of our tubs making it easier to distribute if two cleaners are using the same tub. We recommend the use of 12kg tubs as these are the perfect size for manual handling making them large enough for a big cleaning job but small enough to be completely portable.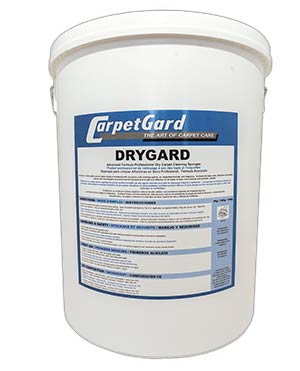 This method of cleaning is most effective when using a scrubbing brush machine specifically designed to give the very best results. Drying time is virtually instant once the cleaning method is finished and the powder can be easily vacuumed up. Best of all it is safe for use on all types of carpets including wool. The powder can be used for general spillages as well as a full carpet clean. 
Refresh, rejuvenate and restore with Drygard the complete carpet cleaning solution, a great alternative to wet carpet cleaning.
Method
Vacuum carpet thoroughly to remove loose soiling 
Prepare heavily stained areas or traffic lanes with a light application of the appropriate prespray (Pro-Active, SprayGard or Spray & Clean)
Apply DryGard by hand or applicator at approximately 1kg per 20 sq metres
Machine brush in all directions and leave for 15 – 20 minutes
Vacuum carpet thoroughly to leave carpets clean, fresh, revived and dry
Available in: 1kg sachet,12kg bucket,18kg refill (carton)
Fragrances: LEMON, ALPINE, ISLAND BREEZE.(fragrance sample on request)
Downloads
Features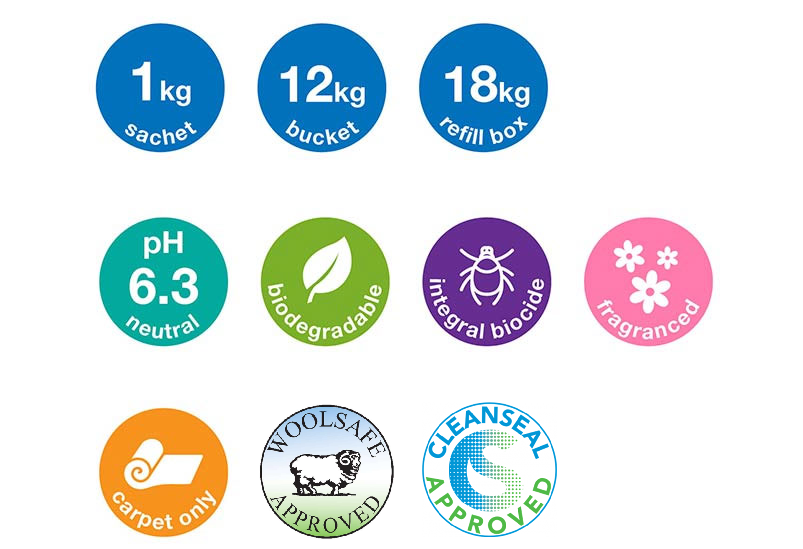 To compliment our Drygard dry carpet cleaning powder we have also developed a range of pre-sprays and stain removers designed for particular cleaning problems