Spray & Clean - dry carpet cleaning chemicals

A fast drying, low moisture stain and soil absorber
Spray & Clean has been developed in house alongside our Drygard powder as a fast drying absorbing liquid, and can be used on its own as a dirt absorber or with our Drygard powder.  
Spray & Clean is a biodegradable, low moisture carpet cleaning chemical, safe to use on all types of carpet and fabric including wool.  It contains an integral biocide to control dust mite allergens and other harmful bacteria and an optional deodorising fragrance.
Our advanced cleaning spray will deep clean carpets by detaching the stains and soiling that it absorbs as it fast dries. The residue can then easily be vacuumed away perfect for split drinks, general soiling etc as well as general cleaning of carpets and upholstery.
Upholstery cleaning
Spray and clean is a safe and effective upholstery cleaner, after testing for colour fastness, apply by pressure sprayer and agitate with a soft brush or cloth, leave for a few minutes and wipe with a clean damp white cloth.
Method 1: Spray and Brush

Vacuum carpets thoroughly to remove loose soiling.
Dilute with up to 10 parts water and apply by sprayer, do not over wet.
Machine brush in all direction and leave to dry.
Vacuum thoroughly to leave carpets clean, fresh, revived and dry.
Method 2: Bonnet buff
Vacuum carpet thoroughly to remove loose soiling.
Dilute with up to 80 parts water (or as required) into the tank of the rotary buffer or apply directly to the carpet by pressure sprayer.
Lightly dampen the bonnet pad before use.
After buffing allow to dry and vacuum thoroughly.
Product Features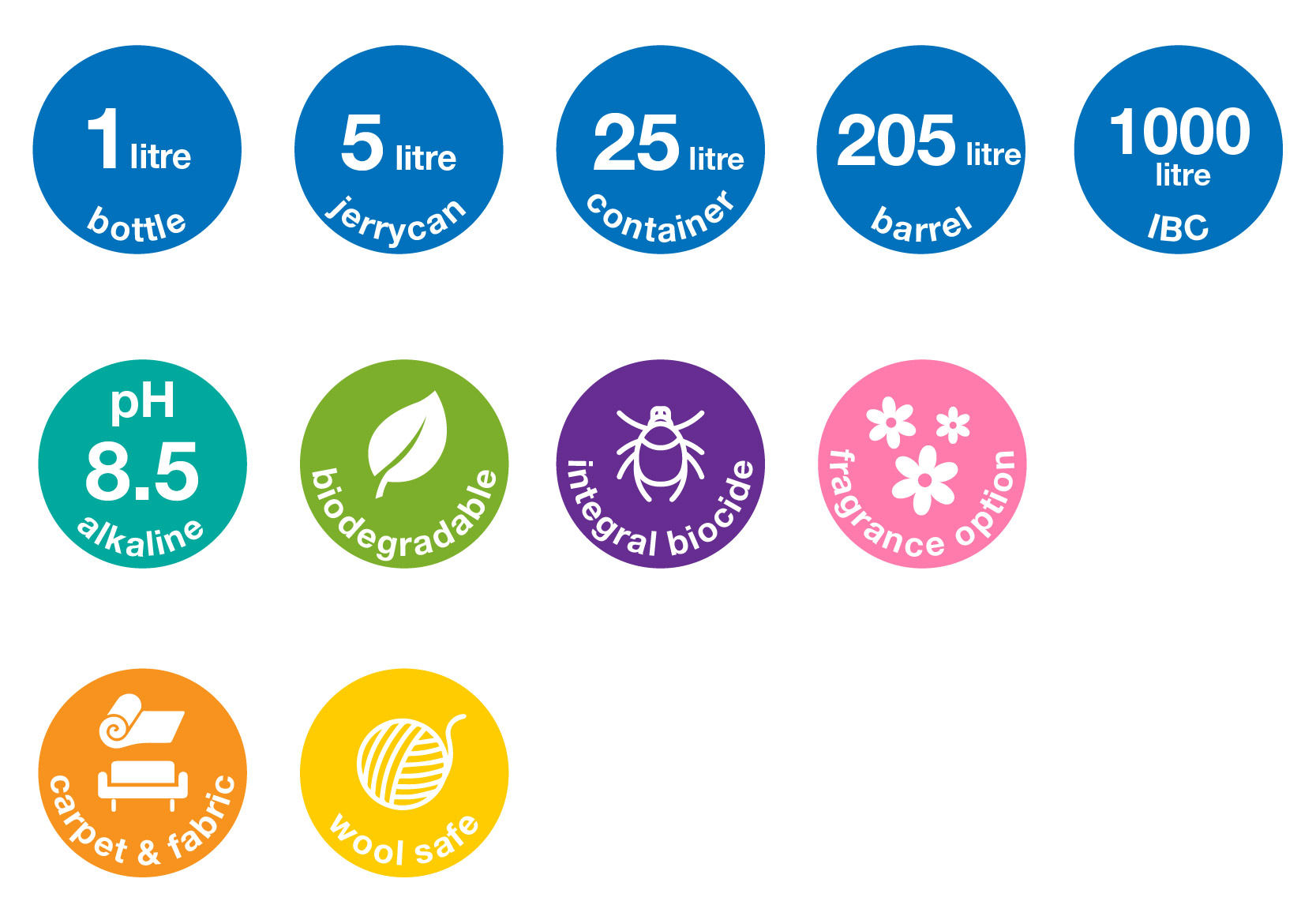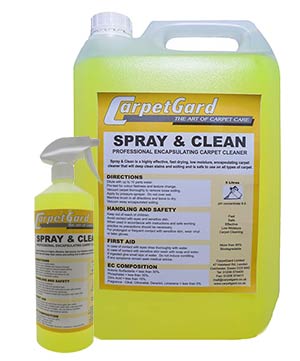 Safe for the carpet, safe for the family